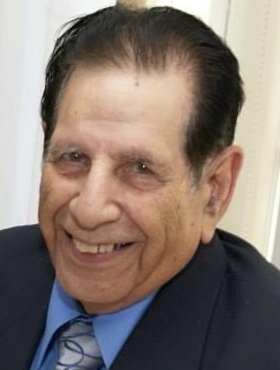 Victor Palacio
We would like to recognize and celebrate the wonderful life of Victor (Vic) Palacio. He was born in southern California on January 12, 1928, to the Palacio-Singh family. Being the youngest of six children, he had three brothers - John (Betty) Palacio, Joseph (Nena) Palacio, Salvador Palacio, and two sisters, Isabel Garewal and Concepcion Garewal. They moved to Yuba City in 1930 and remained in the Yuba-Sutter area where they raised families of their own. Vic attended Barry Elementary and Yuba City High School, where he met lifelong friends and enjoyed attending class reunions well into his nineties. He loved school!
When he was 12-years old, Vic got his first job working on Boyd Ranch with his older brother, Salvador. Shortly thereafter, WWII began and all three of his brothers served in the war. Sadly, Salvador did not survive the battle. When Vic was old enough to serve, he proudly joined in the National Guard for seven-years. One of the happiest days of his life is when his sister Isabel inteoducedhim to the girl next door - Daisy. After a brief courtship, Vic and Daisy were married. Vic supported his family farming and working on the local farms spraying, a rice harvest driver. He also shook peaches and prunes for Didar & Santi. There were many long hot days working on the farms.
Known to many as Grandpa, Gramps, Uncle Vic, and Doc - he enjoyed sharing his life story with others. A few of his favorites include: When he was 16-years old, he drove to Grass Valley for a Friday nightfootball game, and racing home, Rick Misquez was hanging on for dear life! Joining the National Guard and going to boot camp! Barhopping at the hot spots in Marysville, where he would drink and dance the night away. He enjoyed life to the fullest. He was ready to go anywhere at any time and would try just about anything once!
Grandpa was a talented photographer and documented his life journey through photographs. If you knew Vic, you are guaranteed to have a photo or two in his collection! To showcase his photography, he entered local county and state fairs, where he placed best of show several times, along with countless 1st, 2nd, and 3rd place ribbons. Unfortunately, all prints prior to 1955 were lost in the flood.
As life slowed him down, Gramps had excellent caregivers, Eve and Maria, who he educated on the history of the Yuba-Sutter area! A special thank you to you both, for your patience and kindness.
Grandpa's surviving family members include: granddaughter Deanna Shoopman, great grandson Ricky Shoopman, great granddaughters Nicole (Danny) Yelland and Cassie (Russ) Green, great-great grandson Maddox Yelland, great-great granddaughter Mia Shoopman, many nieces, nephews, and great-great nieces and nephews. He loved his family unconditionally. Regardless if he saw you yesterday, last month, or last year, he would always talk like it was yesterday. He spoke highly of everyone and kept his family and friends close to his heart. We will all miss his infectious smile, quick-wit, and sense of humor.
Dear Sweet Gramps - Rest in peace, we love you!